In this political climate, is it possible to
Live your Values, Love your Neighbors, & Experience Peace?
Yes, it's entirely possible—I'll show you how!
You'd love to make it through the season with your sanity intact, but…
… you get overwhelmed by all the media coverage.
You want to make decisions based on facts, not emotions but…
… you have trouble sorting through all the information—and misinformation—to make a good choice.
You try to communicate kindly and listen curiously, but…
… you get so frustrated with yourself—and others—when emotions take over.
Based on the conversations I've had with dozens of clients & readers, I assure you: you are not alone!
So, armed with Scriptural and scientific principles, I created a FREE 5-day mini-course just for you to help you clarify your values, avoid overwhelm, love your neighbors, experience peace.
"Your series is genius!!! Seriously. It helped me take some small actions that I needed to feel calmer, less reactive, and more loving right now."
"This mini-course was stellar! And it's not just for election season—I'm using it to work on some of the other areas of my life where I struggle."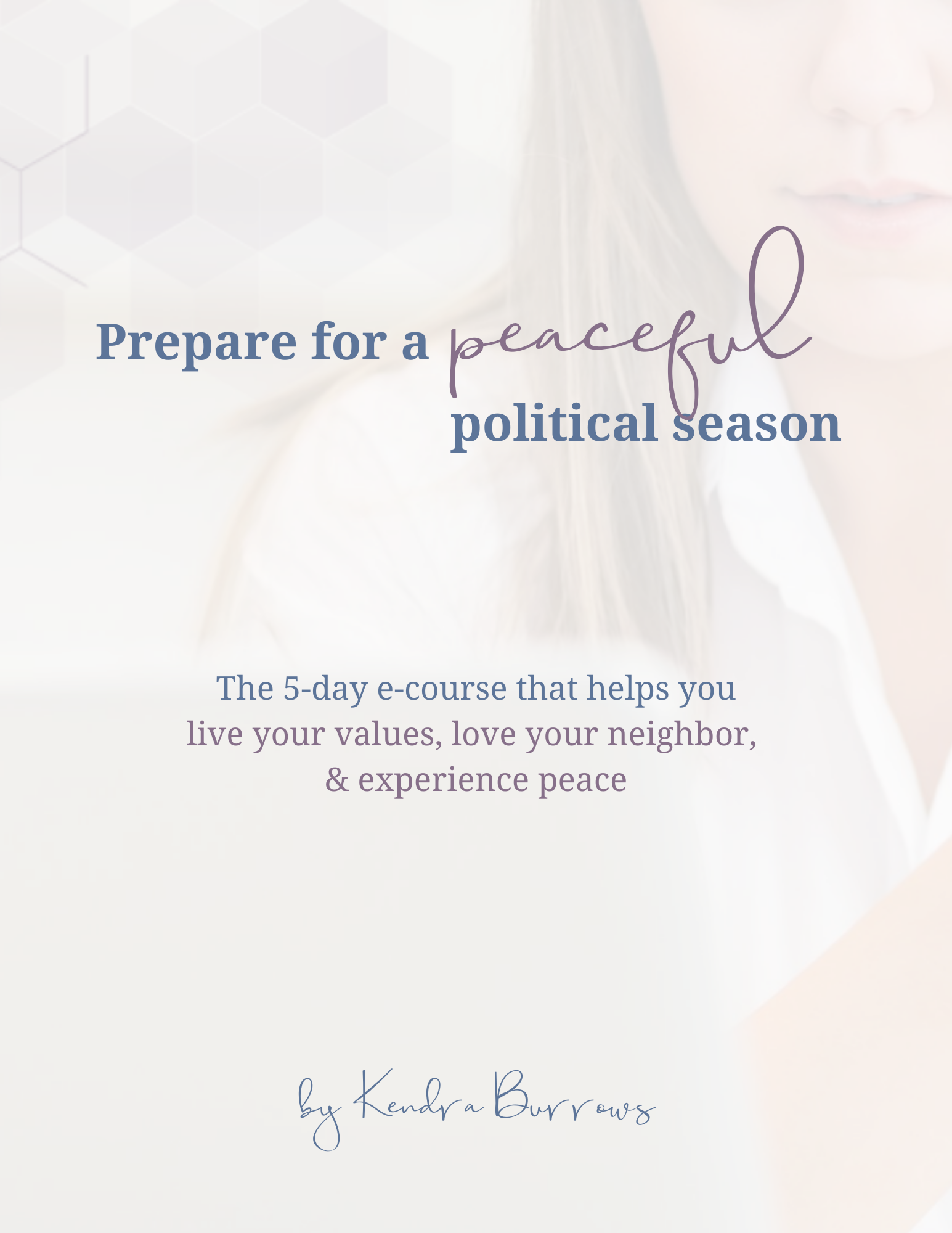 Experience peace in this crazy season
Prepare for a Peaceful Political Season is a FREE 5-day mini-course. The best part is—it's entirely non-political.
Rather, it's a process to help you:
Clarify what you want this season to look (and feel) like for you—so you can live

your

values
Plan how to achieve the peace you crave—including how to avoid overwhelm and love your neighbor
Decide on the issues that matter to you—so you can vote your conscience
Sign up today to get this 5-day mini-course along with weekly tips & reassurance to help you change your negative thinking.
IS THIS REALLY NON-POLITICAL?
Yes!
I understand your skepticism. You're constantly exposed to "non-partisan" material that's really a thinly-veiled attempt to guide you to a specific voting outcome. You won't find that here!
Even as Christians, we each have different life experiences, perspectives, and Holy Spirit leadings. God gave us big brains for a reason—and He created each of us with the ability to process our own situations and make our own choices.
That makes it even more important to have a truly non-political strategy for making decisions—so you can clarify your goals, live out your values, and experience peace throughout the process.
HOW LONG WILL THIS TAKE?
This mini-course hones in on 5 specific action steps to achieve the peace you crave as quickly as possible.
Each day, you'll receive an email containing:
a short video lesson explaining the day's action step
a worksheet to complete the action
The results are quick, but powerful!
WILL YOU TELL ME HOW TO VOTE?
No. This course does not take a political stand on politicians, platforms, parties, or issues. Neither does it tell you which issues you "should" be concerned about. 
It will lead you through a process to help you gain clarity on the issues that are important to you—so you can stay grounded throughout the political season, and come out the other side with the peace of knowing you acted according to your values.
DO I HAVE TO BE A U.S. CITIZEN TO BENEFIT?
Not at all. Although this course was designed to help our brothers and sisters experience peace in the current U.S. political climate, it is non-political (and not issue-specific), so it can be used "as is" to help you gain clarity during your country's political season, as well.
Additionally, this process is perfect for helping you live your values, love your neighbors, & experience peace in all areas of your life—including the current worldwide health situation and even holiday preparation, to name just a few examples.
"This is a game changer!"
Chris Moss