Have you ever been so overwhelmed with life that even the idea of reading a book about overcoming it made you twitch? Me, too!
Have you ever wondered why the women around you can adopt seven children (two from foreign countries), run highly successful home businesses, take chicken soup & biscuits to the neighbors at the first sign of a sneeze, and run two Bible studies from home, when some days it's all you can do to remember to feed your kids dinner before they go to bed? For real – me, too!  
Are you ever certain that you could do everything on your list if only the people in your life would cooperate? (That is, do it your way!) Well, I'd be crazy to admit something like that in public, but …you know the answer!
Quiet the Chaos and Restore Your Sanity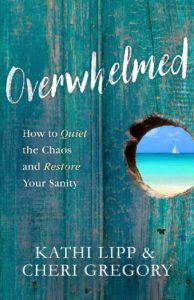 That's why I LOVE Kathi Lipp and Cheri Gregory's approach in Overwhelmed: How to Quiet the Chaos and Restore Your Sanity.
Rather than lists of to-dos and tips that make you want to scream, "But where do I start!?!?", Kathi & Cheri lead you, one small step at a time, to a more peaceful you.
What do I love about it?
It feels like I just sat down with two close girlfriends who, on hearing that I'm overwhelmed, make me a cup of tea (and scones!) and listen to me. They've been there before, and they're going to come alongside to help me get out.
They're not going to go all Martha Stewart on me and give me a huge list of things I need to do to get out of overwhelmed.
But they also don't presume to know what's best for me. I get so frustrated at friends who are sure they know the ins and outs of my life. Don't you? "It would all be fine if you made your kid take the bus to school instead of driving him every day." "Just whip up twelve meals on the weekends in between laundry loads like I do." "Can't your husband run to Costco by himself?"
Kathi & Cheri (you know, my new besties) don't bark orders at me. They know I'm an individual. They know God made me different than he made them — or you. And they know that the way for me to get out of overwhelmed is to look at my personality, my values, the size of my plate.
And they know that the way to help you get out from overwhelmed, to quiet your chaos and restore your sanity, is to first look at who God made you to be. They'll come alongside and guide you step-by-step through that un-overwhelming process to restore your sanity. (Or in my case, some of my sanity; they can't be responsible for genetics!)