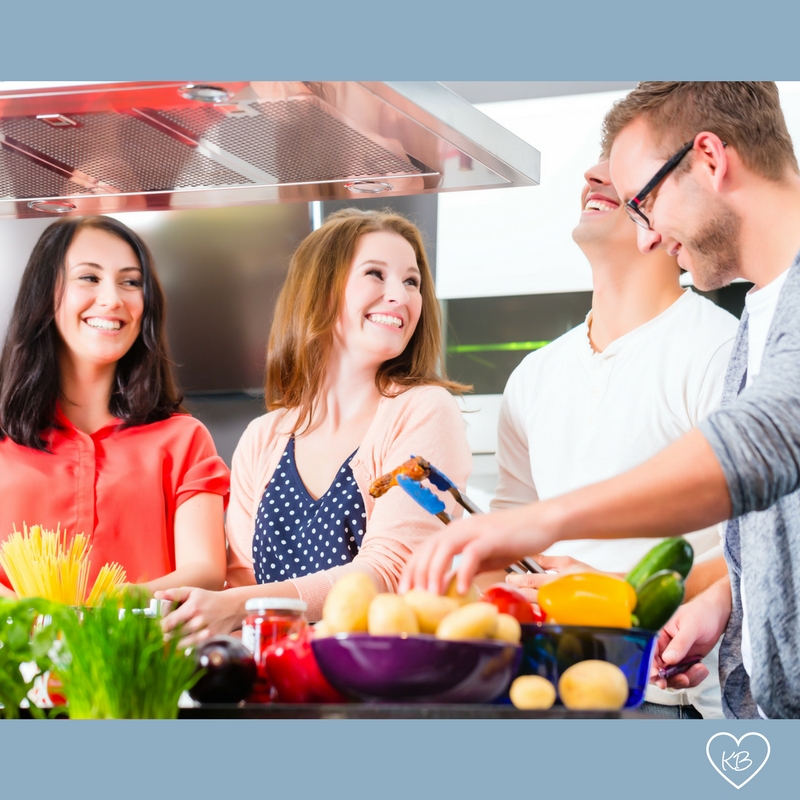 I need to calm my jumpiness so it doesn't give me away.
For the most part, I don't get nervous about the potlucks I host. But right now I'm so jittery I can't focus.
How hard can it be to arrange sliced meats and cheeses?!
While planning this potluck, my boyfriend and I had gone back and forth about the purpose of a meal with friends. When he shows hospitality, he emphasizes fellowship and fun. I prefer to dote on guests with culinary feats, which rely on finesse or fortune.
This time I conceded to Bill. I'm glad I didn't make elaborate meal preparations, but went for a Costco run instead: sandwich fixin's, rolls, salad, and a cake.
I rearrange the rolls — again.
Should I put the salad in a different bowl? Stop fidgeting. Stay calm.
Excitement electrifies the air. Our parties are always joyful events. But this time, our friends have no idea they'll attend a wedding disguised as a potluck!
The e-vites we sent out three short weeks ago proclaimed it a "Two Announcement Potluck."
Speculation ran wild from the moment we hit send.
Everyone assumes we'll announce our engagement, and they're right. Though we've dated for a while, because we have three children between us, we've been cautious about the next step.
Guesses about the second announcement run the gamut: early retirement, a new house. One imaginative pal even surmised a bundle of joy announcement (which would have been both ill-timed and impossible).
We answered our friends' inquiries with finespun truths, which is more difficult than politicians' words imply.
And we chuckled over devious attempts to persuade our son to disclose the secret; fortunately, pre-teen boys don't have to feign disinterest.
The Doorbell rings.
Oh no!
The first guests arrive twenty minutes early.
My nerves can't handle this.
At our potlucks, guests often arrive up to sixty minutes late due to church activities and kids' volleyball schedules. No one minds. We're grateful to get together.
This time, however, everyone arrives early…except the officiant. Now we have to keep the secret for another hour.
I work hard to show a calm exterior as my mind flits.
Maybe I should have dressed up more?
A sundress would have been a sure giveaway, so I chose capris and a t-shirt. I continue to second-guess my decision.
I'm antsy, but I force myself to be still.
Make small talk, laugh, excuse yourself and escape to the bathroom.
I look in the mirror.
Breathe deep. Calm down, you can do this!
Others can't tell I'm unhinged… until giddy excitement rises from my chest and my smile explodes.
Okay, dial it back. Breathe… That's it — a cheerful smile, not crazed-lunatic beaming.
Almost Time…
Bill and I migrate to the front porch alone. Arms wrapped around each other as the joyous sound of our friends' laughter floats from the backyard, we admire the garden and whisper about our new adventure.
Our final guest arrives. It's time.
Bill weaves the pre-announcement tale with his characteristic charm and humor.
"Everyone already guessed our first announcement," he says. "Kendra and I did indeed get engaged!"
Frivolity and congratulations erupt, more rambunctious than one expects from a crowd of fifteen.
"Now, the second announcement: we've chosen a date for the wedding, and you're all invited!"
Our guests' anticipation climaxes.
"The ceremony will be August tenth of this year!"
Friends look at us, and at each other, momentarily unable to process Bill's words.
"Wasn't yesterday the tenth?" someone murmurs. Several side conversations occur before our friends realize, "Wait! What's today?" "Today is August 10th!"
In the midst of a potluck on my sweetie's back deck (now our back deck), we become one in a simple ceremony, with a handful of dear friends present.
What a beautiful day. And what a great surprise! We're so blessed.
An Even Bigger Surprise
But August 10th held another significance.
Yes, I married the man I love. And I shared a fun time (and a joke!) with close friends.
But hosting a surprise potluck for my wedding (did I mention that!?!) changed how I regard social events.
We all had an incredible time. No one dressed up. And no one slaved over a hot stove.
But no one went hungry either.
Could anyone tell I hadn't cut the salad veggies myself?

Did guests care that they assembled their own sandwiches?

Did anyone complain about the Costco sheet cake? (Well, the young girls objected ("This isn't a

wedding

cake!"), but their displeasure didn't affect their appetites.)
The most important secret unveiled that day had nothing to do with the nuptials at hand. I discovered fellowship and fun are the focus of a shared meal. (Not culinary feats or spending a fortune.)
I'm often tempted to wait for the perfect circumstance to host a social event. I want the perfect day, the perfect weather, and to be perfectly relaxed.
But fun and fellowship with friends are the only requirements.
And if I can set aside my perfectionism on my wedding day, why not the rest of the year?
Any day can be the perfect occasion to host a gathering. Let's agree to choose a date and invite someone over for a meal.
Do you have a practical hospitality tip of your own? I'd love to hear about it! Share in the comments or connect with me on Facebook!
Need more ideas? Grab your FREE copy of
Helpful Hospitality Hints: How to Host a Meal Without Losing Your Mind
below, 
and check out my guest post at www.KathiLipp.com for another practical hospitality tip!